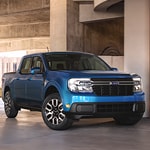 The Ford Maverick here at Sarat Ford in Agawam, MA has driver assistance features, including adaptive cruise control and lane-keeping assistance. It also has a lane departure warning system which will automatically check for an area where it's likely that a driver may drift out of their lane and will alert them if they begin to do so.
Other safety features include automatic emergency braking, which applies the brakes if it senses that a collision is imminent. If a crash occurs, the airbags will also deploy to help protect the driver and passengers. Pre-collision assistance is available to help drivers avoid accidents by making them aware when they're about to get into a dangerous situation.
The seat belt in this car automatically tightens when there is a sharp turn or stop, keeping occupants from being flung from their seats. Drivers can also use a hands-free phone system built into this vehicle, and outside mirrors provide wide viewing for safety.