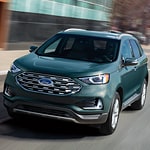 The 2023 Ford Edge is the perfect vehicle for drivers who want a comfortable, capable ride. With its powerful engine options and reliable all-wheel drive system, this SUV can go anywhere you need it to.
For starters, the 2023 Ford Edge features a standard 2.0-liter EcoBoost engine that produces 250 horsepower and 280 lb. – ft. of torque. What's more, the 2023 Edge also comes with an optional 2.7-liter EcoBoost V6, which ups the power to 335 horsepower and 380 lb. – ft. of torque. That's plenty of power for everyday driving, as well as weekend excursions into the wilderness or up steep mountain roads. Plus, each of these engines pairs with eight-speed automatic transmission, which means you can shift through gears quickly and smoothly.
The 2023 Ford Edge also features an intelligent all-wheel drive system. This system uses sensors to detect the amount of traction each wheel needs and adjusts power delivery accordingly. That means you'll have sure-footed confidence for whatever conditions you might encounter.