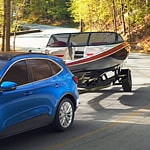 Ford is the brand that Agawam drivers can turn to when they need a reliable and comfortable SUV. The 2023 Ford Escape is a prime example, giving you a spacious and versatile cabin with the features you will really use.
An 8-inch touchscreen is now standard for the Escape, and you can also opt for a 13.2-inch version in select models. Either way, you benefit from the Sync 4 infotainment system, complete with wireless Android Auto and Apple CarPlay. For the upholstery, lower trim levels go with a textured cloth while higher models get synthetic leather for a bit more sophistication.
If desired, your 2023 Escape can be upgraded with features like a 10-speaker sound system from B&O and a 12.3-inch digital gauge display. You can also get a head-up display and an in-dash navigation to make finding your next destination easier than ever.